Wouldn't it be convenient to have a single account with access to all commercial registers worldwide?
kompany® provides real-time access to structured, official and authoritative commercial register data, including company filings covering more than 100 million companies in 150+ jurisdictions.
KYC
Know Your Customer

Identity Verification

Company Filings

Directors & Officers
AML
Anti Money Laundering

Shareholders Lists

Beneficial Owners

Directors & Officers
EDD
Enhanced Due Diligence

Filings & Documents

Shareholder Agreements

Historical Accounts
Efficient and easy-to-implement solutions for legal and audit teams
Legal and audit teams often require original filings and commercial register extracts when conducting enhanced due diligence work or supporting their clients.
With kompany legal and audit teams can access such documents and company information through one source instead of having to contact different registers in various countries. Since the service is real-time and enables immediate downloads of register documents and filings, they can save both time and costs and avoid the need for further information intermediaries.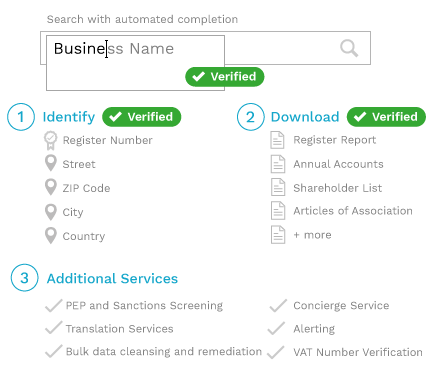 Get started - live-search available
Search for official information on more than 100 million companies
Go!
All Countries

US Search

United Kingdom

Australia Search

Austria

Belgium

Bulgaria

Canada New

China New

Croatia Search

Czech Republic Search

Denmark

Estonia

Finland

France

Germany

Gibraltar

Greece

Guernsey

Hong Kong (SAR) New

Hungary New

Indonesia beta

Ireland

Italy

Jersey

Latvia

Lithuania

Luxembourg

Macedonia

Malta

Netherlands

New Zealand New

Norway

Poland

Romania

Russia

Serbia

Singapore New

Slovenia

Spain

Sweden

Switzerland

Taiwan New

Ukraine Search

---
Click here if you cant find the company or country you are looking for.
We offer instant access and efficient integration possibilities
There are two ways to access the service:
1. Through our web-tool on kompany.com
The web-tool is accessible from any device at any time and is a very efficient means to conduct direct checks on an unlimited number of companies.
2. Through our Enterprise RESTful API called BREX.io
The API on the other hand allows for an easy-to-implement integration into existing internal systems. This enables to fully automate the retrieval of official company data and helps legal and audit businesses save time and costs.
Furthermore, we offer a concierge service through which we provide additional commercial register information on companies for a total of 115 jurisdictions quickly and efficiently.
Financial Service Industry
2. kompany BREX JSON/REST API
Examples of use cases include:
Corporate client onboarding: manual or automated retrieval of company vitals and commercial register extracts enabling quick business verification based on the official source data. E.g. pre-fill register number, company name, address, status, managing director, etc based on the data filed with the commercial register.
Monitoring of companies: create personalized lists of businesses and monitor them for relevant updates and changes lodged in the commercial register through push notifications.
One-click document retrieval: retrieve official documents such as annual accounts or shareholder information for your enhanced due diligence processes. Store and manage the documents in our web-tool or directly in your system.
Customized solutions: for specific customer requirements or inhouse applications, we also offer customized solutions to improve efficiency or add value to workflows or processes. For more information contact us
If you feel ready to get started you can access our WebTool straight away. Sign-up for a business access package now.
Alternatively, please contact our

Solution Specialist

to schedule a free live-demo of the service or get a free trial-account.
If you have any questions, please do let us know - we can clarify any points and are always happy to work with you to find a proposal to meet your requirements.

Claudia Prkna (Solution Specialist)

Contact us